Pony Club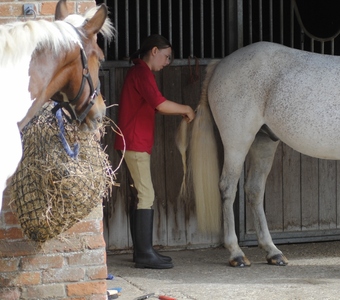 ALL PONY CLUB CANCELLED UNTIL FURTHER NOTICE
The Pony Club is specially designed for young riders who enjoy riding and love ponies, through completing badges and certificates you will learn all about caring for ponies and have fun along the way. You can become a member through our linked riding centre and you will be able to enjoy the benefits of belonging to the largest association of riders in the world.
There are lots of badges to complete ranging from feeding to tack cleaning, working dogs to wildlife, including mini badges for the younger members. Progressive certificates are earnt as you progress through the levels from Bronze to Platinum.
Pony Club sessions are stable management based and you do not have to ride with us to join our Pony Club.
Each member will recieve a welcome pack from the Pony Club and with each badge session a workbook that will contain all the infomation needed to pass the badge. You will also receive a record of achievement to mark off which badges you have.
The Pony Club is open to all children from the age of 5 years, meetings are held fortnightly on a saturday and cost £15 per session. Each session lasts two hours. Annual pony club membership is £29, this entitles you to third party insurance.
If you would like more information then please give us a call or look at the Pony Club website.
PONY CLUB SESSIONS
pony club runs fortnightly, please see booking form for dates
Beginner/younger members 1.15pm to 3.15pm
Intermediate/Older members 11am to 1pm