Parties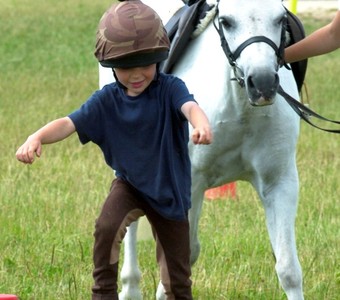 Come and have a PONY PARTY with your friends and our ponies
Our parties are suitable for ages 4 and above and all abilities are catered for as the ponies are led at all times. We use quiet and experienced ponies used to lots of children.
Gymkhana, races on ponies (minimum 6 riders) we start with 15 minutes of grooming and meeting the ponies, the gymkhana lasts for 30 mins. Two ponies are provided. The cost of this is £15 per child
Ride Out, ride around the Playbarn field (max 6 riders) as above we start with a grooming session followed by a hack, each rider has a pony for this option. The cost of this is £25 per child
We can also provide a party room for the children to use. (we do not provide the food) the party room is available for 45 minutes and is based at the riding centre.
Parties can be organised after school, Saturdays, Sundays and school holidays.
In the case of bad weather we will use Steady Eddie (our riding simulator).
Booking is easy - choose your option, phone the riding centre to reserve the date, fill in the booking form and return to us with 50% deposit (this can be paid direct into our bank) All details will be confirmed by email. Numbers can be increased but final numbers are needed two days before the party. Complete and sign the party list and email back to us with final numbers plus a signed copy of the procedures. (this enables us to make sure we have the correst size ponies)
The party room is not supervised by Riding Centre staff, adult supervision is required at all times for the duration of the party.
If you have any questions please contact the riding centre